Start your career with us
Here at the Financial Ombudsman Service we make a positive difference every day. We're an award-winning organisation and we offer a variety of apprenticeship opportunities. This is a great place to work.
We help sort out complaints between financial businesses and their customers, and have been doing so since we were set up by Parliament in 2001. Our Apprentices work in a variety of areas, from supporting our case-handling teams and our Ombudsmen, to working with our Project Managers, Legal Team, HR Team or IT.
As an apprentice, you'll receive all the practical and hands-on experience you need, as well as advice and support from the team around you. You'll earn a salary and there are no fees to pay for your training. You will also get study time and training to give you additional skills that will be helpful throughout your career and by the end of your apprenticeship you'll be ready for your next move.
Sign up to our newsletter to see some of the things we've been working on.
What you'll get
Our apprenticeship programme gives you the experience of working in your chosen career field and the time to learn and achieve an industry recognised qualification. You'll be joining one of our professional teams where you'll get support and mentoring from your Manager and a professionally recognised apprenticeship training provider.
Here are some of the benefits of choosing an apprenticeship with the Financial Ombudsman Service:
Gain a qualification

We have apprenticeships that suit a range of skills. Ranging from Level 2 to Masters degree level qualifications, our apprenticeships aim to help you achieve your career goals, whether that's in complaint handling, IT, HR or project management. You'll gain an accredited and industry-recognised qualification with no fees to pay.

Earn while you learn

As one of our Apprentices, you'll earn a salary equivalent to the London Living Wage.

You'll also get to create a set of benefits that's right for you from the range of benefits that we offer to all our employees, for example season ticket or rental deposit loans, medical or travel insurance, and Tastecard or Gourmet Society discounts. You will also get membership of our free on-site gym, and use of our subsidised cafe and restaurant.

Kick-start your career

Whether you're a school leaver or looking to re-train, start your career with us, and once you're qualified you may be able to move into different areas in our service and develop further.

If you decide to go and work somewhere else, you'll have developed and gained a range of professional skills that will benefit you in the future.

A top organisation for Apprentices

Rate my apprenticeship has named us as one of the top 100 apprenticeship employers for the second year running.

Apprentices said they've received great support from colleagues and mentors within the service, as well as the great working relationships they've built with their line managers. They also said that they've been made to feel like part of the service as a whole.
Apply for our 2022 intake
Applications for our 2022 apprenticeship programme will be open in June 2022, we will update this page with further information about how to apply nearer the time.
Things to think about
You can apply for an apprenticeship while you're still at school. Find out more about what's involved in an apprenticeship, and who's eligible on the GOV.UK website.
Find out more about writing an application, CV or covering letter and what to do at interviews on the National Careers Service's website.
Application process
You will submit your application to one of the training providers listed above for a preliminary screening.
If you are shortlisted, they will contact you for a telephone interview. There may also be a written exercise to complete at this stage (depending on the role you're applying for) which will be given to you by the training provider.
Candidates who successfully complete the first stage will then be passed to our team for the next stage of the interview process. You'll be invited to a virtual assessment day, which will include giving a presentation, a group exercise and a one-to-one interview. You'll get details of this closer to the time.
Candidates will be contacted with the outcome and successful candidates will be advised of next steps. Our 2022 intake of apprentices are due to start enrolment mid-September 2022. It is likely you will start your apprenticeship in the office.
Subject to government guidance, we will be moving to our new hybrid way of working from March, with us all working at least four days in the office across the fortnight.
From Apprentice to HR Director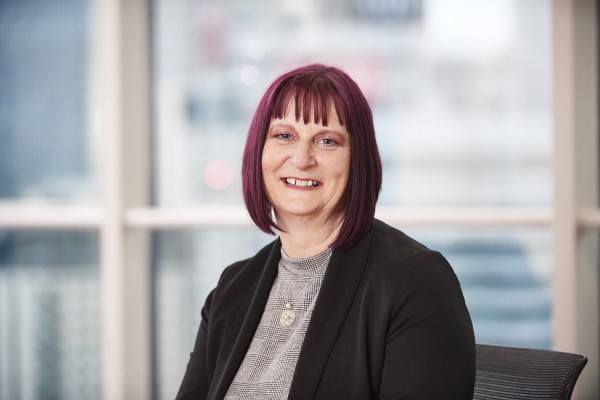 Our Director of Human Resources, Caroline Nugent, started her career as an Apprentice. Caroline is passionate about apprenticeship opportunities and has these words for anyone thinking of applying:
I am absolutely passionate about apprenticeships, as I was once an Apprentice myself. I started my career at a London Council, as an Administrative and Clerical Officer Trainee, and I obtained a Higher National Certificate in Public Administration. During my time there I worked in various departments, including housing and HR. The experience I picked up in each department, and the learning throughout, was invaluable. After my apprenticeship, I concentrated on HR and worked across every aspect - from recruitment and learning and development, to restructures and change programmes. It gave me fantastic insight into the workplace and the HR profession.

I'm currently a non-executive Board member of the professional body for HR, The Chartered Institute for Personnel and Development (CIPD), and before that I was president of another national HR association, the PPMA.

I'm so pleased to now be the HR director of a large organisation that offers the opportunity to others to start their career in the same way I started mine, because apprenticeships provide a great way for people to develop their career in a way that works for them, gaining work experience and professional qualifications, and earning while they're learning.
Putting things right by giving something back
Caroline shares some of the ways we live our values of fairness and sustainability, in our blog. She shares some recent examples of how we have partnered with organisations to support the vital work they are doing.